Two groups of products are being manufactured by «IKADENT»:
«IKADENT» root posts, used in endodontics as a reinforcement element for restoration of partially damaged tooth crown with filling materials.
«IKADENT» anchor posts, used for orthopedic restoration of fully or partially damaged tooth crown. Depending on post model the method allows either use of metal-ceramic crowns and amalgams, or immediate building of composite crown in clinical environment bypassing the laboratory stage.
«IKADENT» posts are being manufactured of special titanium alloy imported from USA and complying to ASTM Grade 5 and DIN 3.7165 standards. The alloy causes no rejection. It is completely stainless unlike widespread Al-Cu or steel alloys (even gold-coated) and provides high durability. Furthermore unlike carbon-fiber posts titanium anchor posts ensure sufficient retention and strength when using in large-volume restorations.
Compared with other products «IKADENT» posts offer a set of advantages: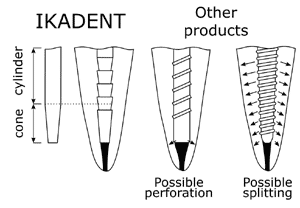 Shape of the root part. «IKADENT» posts decrease the stress put on the tooth root by optimally combining a cylindrical and a conical part. This prevents the root from splitting or perforation during inserting and further use. It is generally known, that the highest stress is put on the root when placing the so called "active" posts (which provide retention by having thread on their surface and are screwed into the root). «IKADENT» posts provide retention by special jags. This ensures proper post locking but makes restoration less traumatic.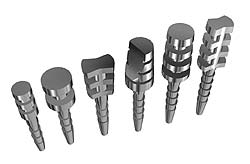 Shape of the anchor head. Wide range of different shapes for the anchor head of the «IKADENT» posts allow the dentist to easily choose the suitable model for any clinical case and any restoration material.
«IKADENT» product range was been improving for many years. It comes as the result of close collaboration with professional dentists, their opinions and recommendations play the key role.
At present time «IKADENT» company produces a wide range of root and anchor posts counting over 20 different models.
Downloadable product catalogue in PDF format (1.56 Mb)
NEW! Economy combination sets IKT-X...
The posts are bundled in sets also containing instruments needed for root pre-treatment and correct post placement. The instrument sizes match exactly with the post sizes saving the dentist trouble with selecting instruments manually.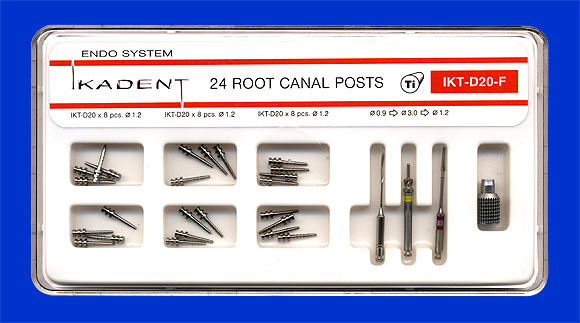 Included instruments and their purpose:
| | |
| --- | --- |
| Penetration drill | Preliminary root canal drilling |
| Root facer | Preparing of a planar anchor seat |
| Calibration drill | Final canal widening to match exact post dimensions |
| Mandrel | Holding the instrument for more accurate manual drilling |
The sets have universal reference numbers depending on post model and bundle type. The key is provided below:

The letters for bundle type:
F - 24 posts of single model, 1 penetration drill, 1 root facer, 1 calibration drill, 1 mandrel, handy plastic box;
N - 24 posts of single model, 1 calibration drill, 1 mandrel (for anchor post sets only), handy plastic box;
V - refill pack, 24 posts of single model. The right choice for refilling a previously used (F) set in case the instruments have retained their cutting characteristics.
NEW! Economy combination sets IKT-X...
Summary table of bundle contents